简单强大的视频会议
RemoteMeeting 是最大化企业生产力的解决方案。
试用 RemoteMeeting 15分钟而不注册
(不限次数)。 摆脱设置和安装过程复杂的、基于应用程序的视频会议。
直接从网页浏览器连接。
Skip complicated installation

There is no need for complicated guide or prior training as there is no program installation.

Free from errors

Stay free from errors that may occur by program installation and various environments.

No cumbersome updates

No more hassle of updating before and after
installing the program.
Purpose-driven quick start mode
Select the desired meeting start mode. Experience incredibly efficient video conferencing.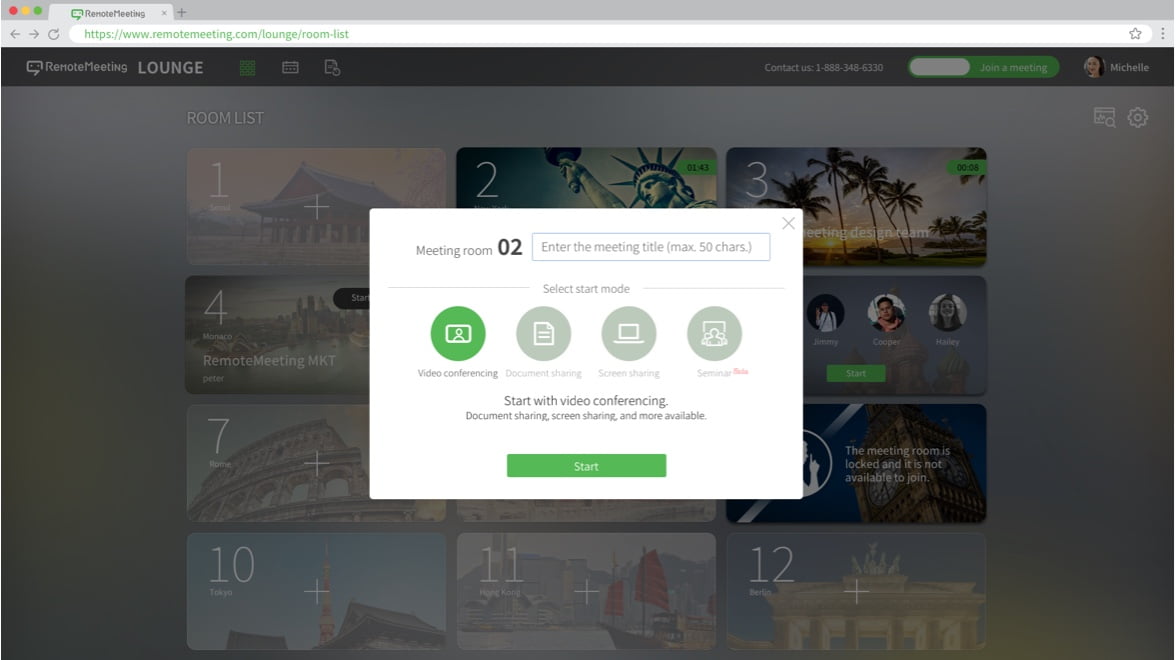 Video conferencing mode
Access all the features needed for video conferencing.
The meeting starts with the camera and microphone turned on, and share documents and screen as it progresses.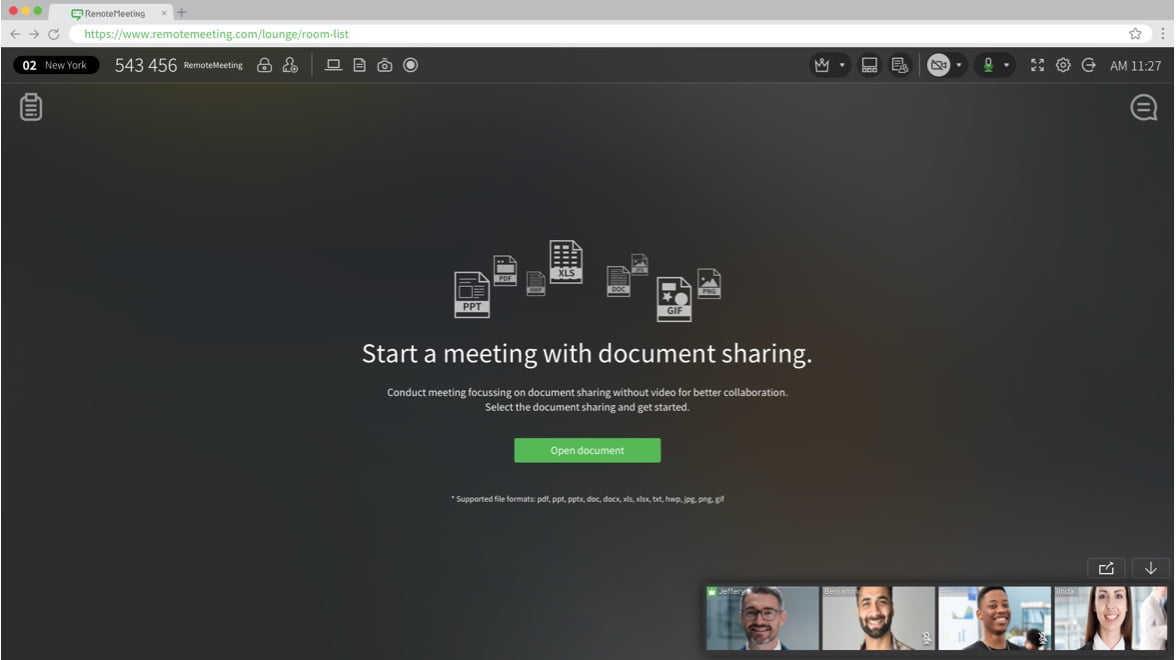 Start in Document sharing mode
Do you need to keep the camera off during meetings?
Meeting starts with the camera turned OFF and keep others focused on the shared meeting materials.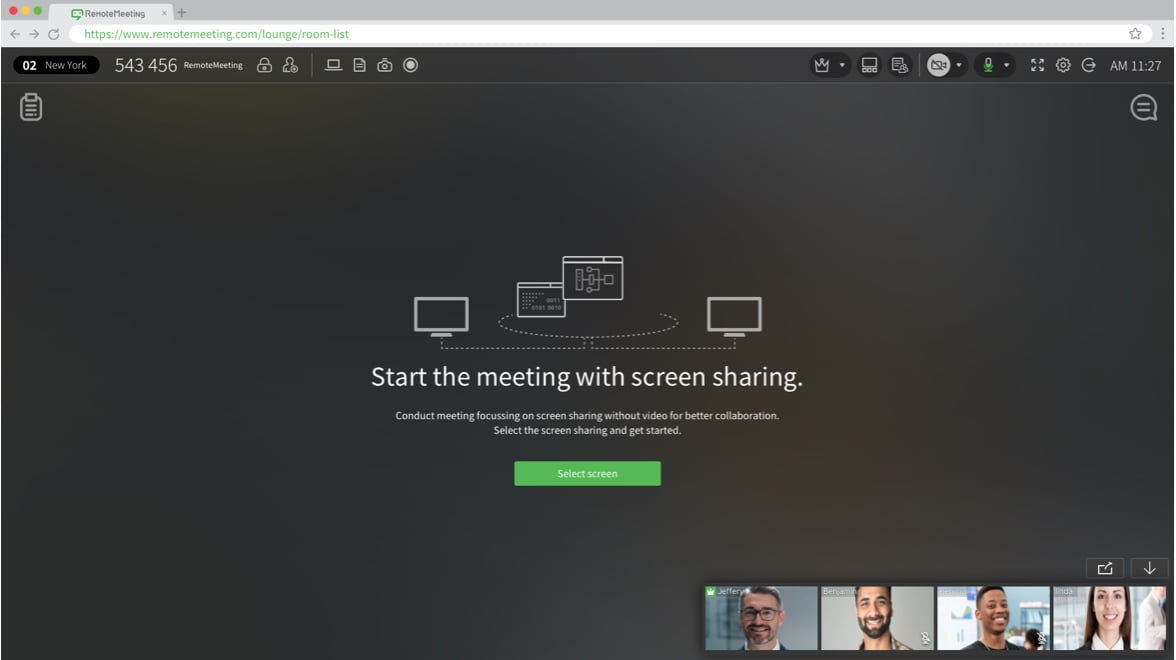 Start in Screen sharing mode
Do you want to show your screen rather than documents?
Meeting starts with the camera turned OFF and
share the screen for interactive drawing and remote control.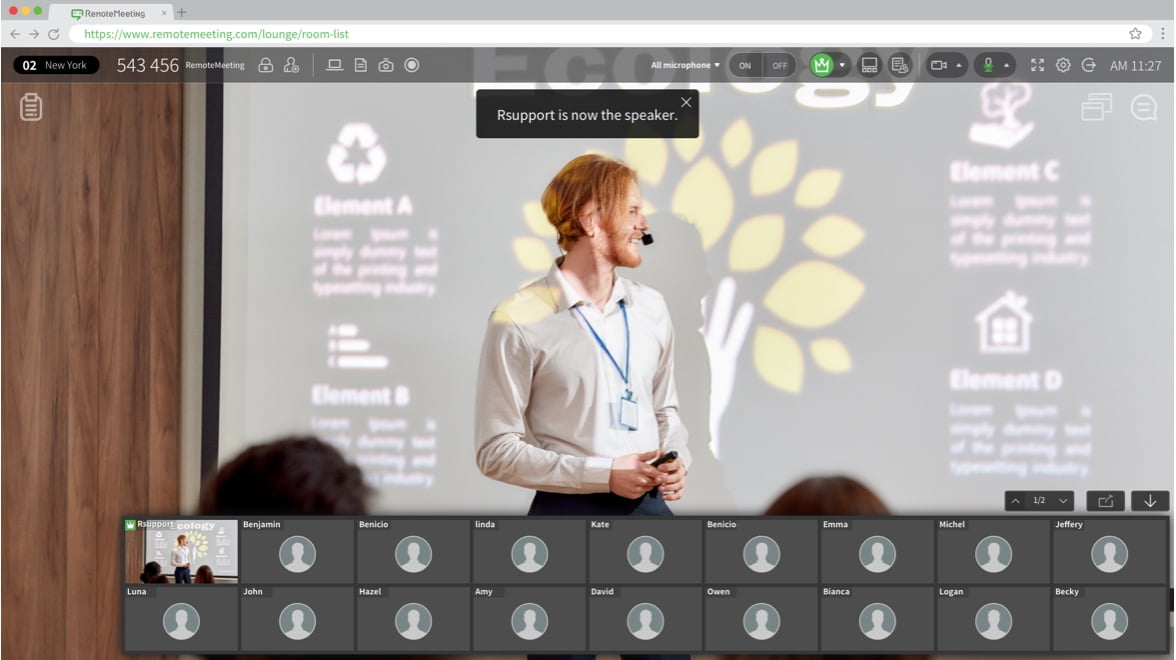 Start in Seminar mode
Do you need a presenter-centric meeting with large crowd?
The meeting creator becomes the moderator and
the participants can join the meeting only by audio with the camera turned off.
6 collaboration tools to complete your meetings
Be as clear as if you are right next to them.
Just like an offline meeting, RemoteMeeting's essential collaboration tool reduces miscommunication and increases effectiveness.
Screen sharing

Enhance your speech by showing your
PC screen to all meeting participants.

Collaborative drawing

Communicate more clearly by drawing
together on the shared screen.

Remote control

Document sharing

Share and present documents or image files
from your PC with other participants.

Record

Record important points of the meeting
with a single click, and review it later.

Chat

Communicate with other participants on the chat window and share the captured screen.
我的文档演示
向与会者演示文档和图像。
与会者可以使用激光笔和钢笔清楚地描述文档。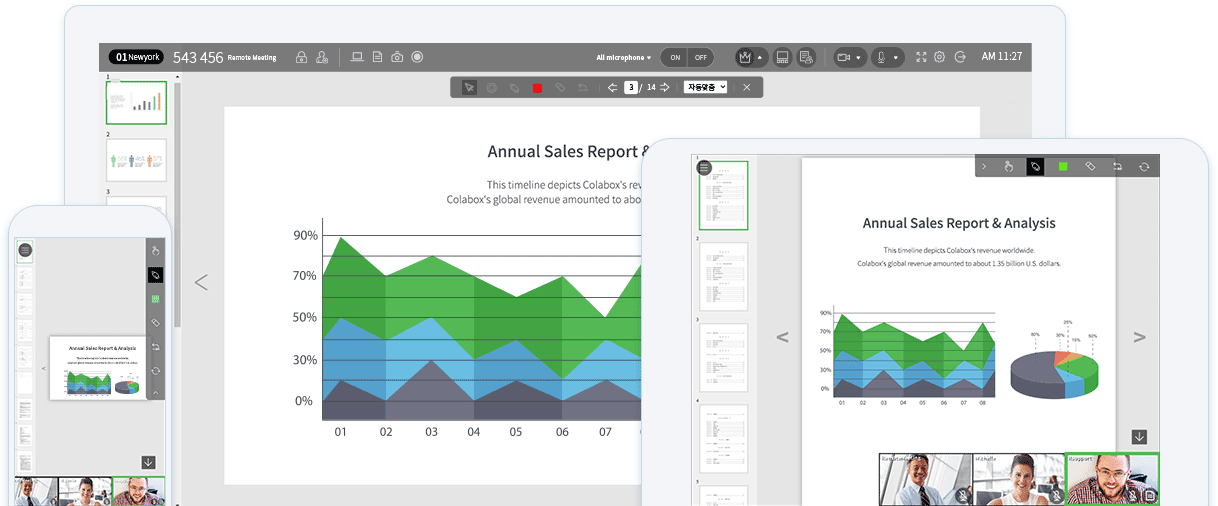 支持的格式
MS Word (DOC, DOCX)

MS PowerPoint (PPT, PPTX)

MS Excel (XLS, XLSX)

Adobe Acrobat (PDF)

TXT

GIF, PNG, TIFF, JPG
实时交互式画图
使用激光笔或彩色笔轻松清晰地解释。
您可以使用 RemoteMeeting 创建比线下会议更有效率的会议。
USER 1 屏幕

USER1

USER 2 屏幕

USER2
Present your screen on mobile or PC in real-time
Share your current mobile or PC screen live with others.
Enjoy a more vivid meeting by delivering local data or screen from any connected device directly.
主持人模式实现更高效的会议
在一个多人参加的会议中,主持人的职责是保持会议的稳定和专注。
根据地点或情况控制会议选项,让演示者只关注演示文稿。
了解更多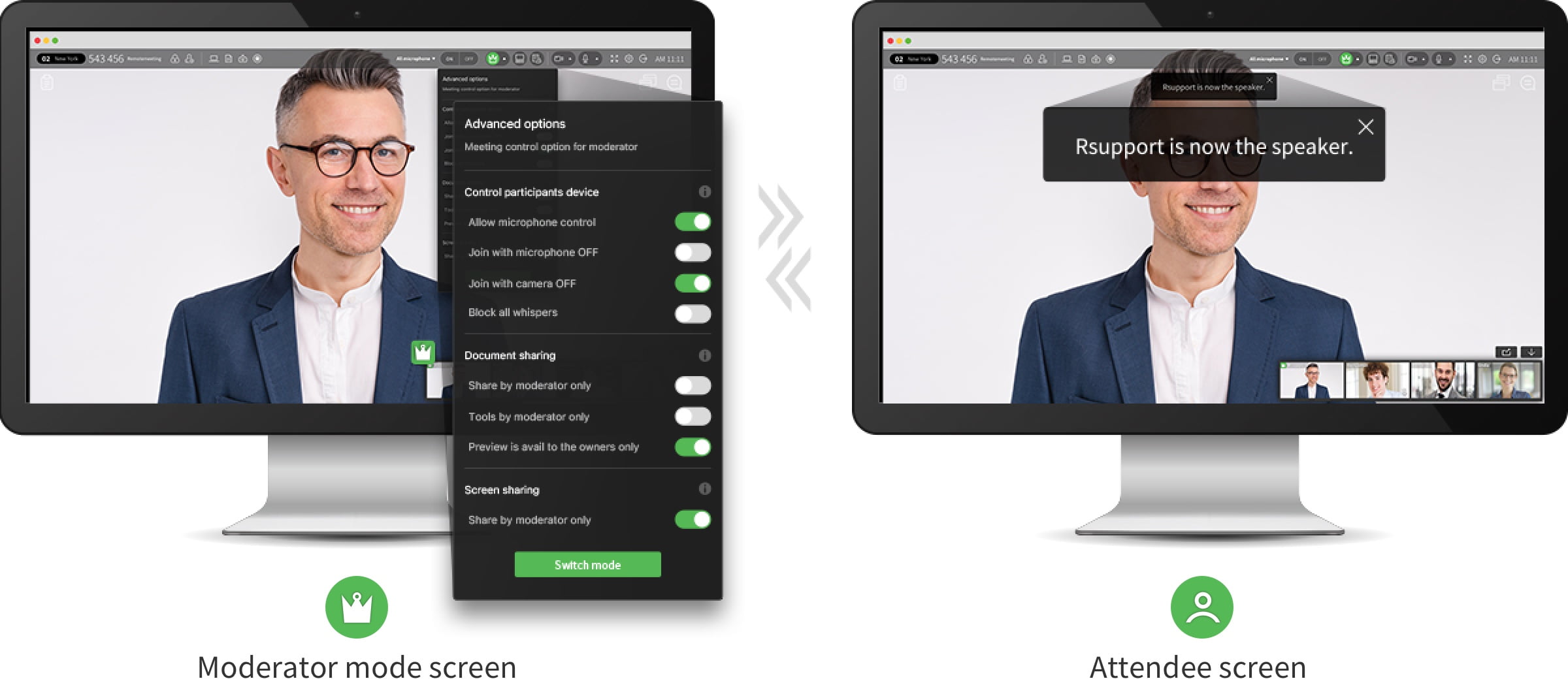 关注主持人指定的发言人。
主持人指定的发言人将固定在其他与会者的左侧或主屏幕上。
主持人还可以控制摄像头和麦克风,以便更专注于发言人的讲话。
了解更多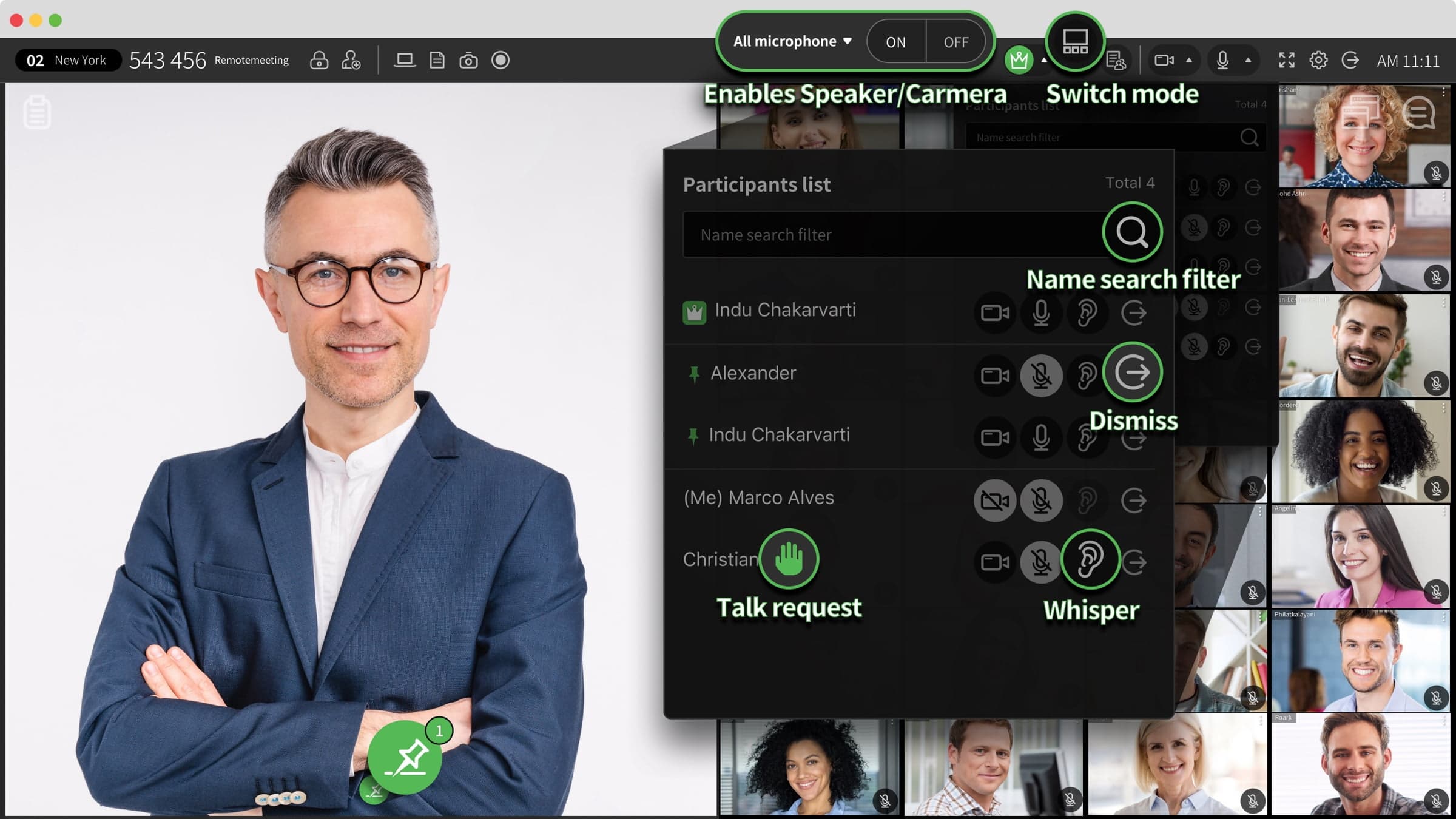 会议记录和聊天 · 事件日志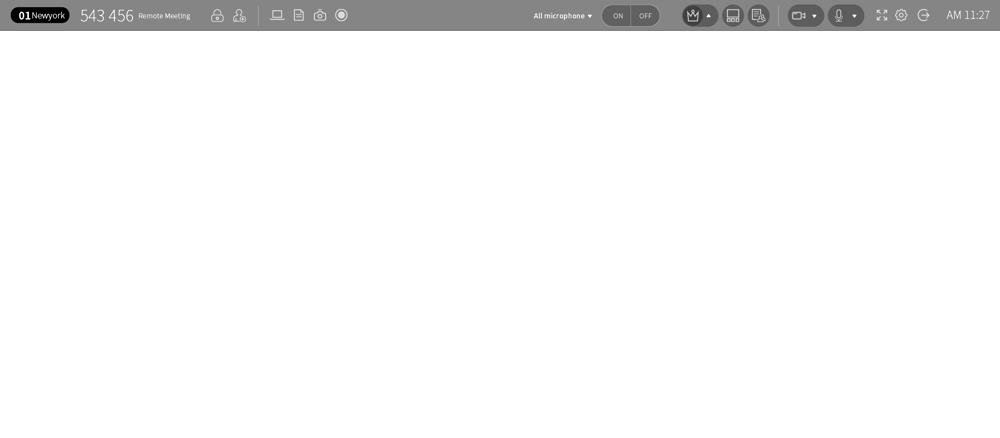 自动转录和保存每位与会者的发言。
将会议记录导出为文件。
在会议期间实时编辑
同时编辑
议程检查
重复使用之前的会议记录
通过电子邮件共享
存储在云中

Communicate via chat during meetings.
Screenshot thumbnail, Screen display, Share saved

Event log
Display event log during meeting,
review activity history between participants.
Screen/Document sharing, Join/Exit, Camera On/Off
更具沉浸感会议的发言人检测
您将专注于会议而不分心。
RemoteMeeting 提供发言人检测和全屏视频会议。
节约成本
使用 RemoteMeeting 将不用出差,我们计算了由此节省的成本并提供了各种统计信息。采用视频会议的公司现在可以实现成本节约。
花费的时间(分钟)



使用情况统计信息
Saving Cost

Total ( USD ) 45,131

Saving Distance

Total ( km ) 123,955

Saving Carbon

Total ( tCO2 ) 24.5044
RemoteMeeting 功能
协作
演示

共享文档,如 ppt、doc、xls、pdf、hwp

画图

在演示模式下画图并高亮显示

聊天

在会议期间共享文字消息。

激光笔

供演示用的多功能激光笔
加入
通讯录

组联系人信息和收藏夹

访问码

使用 6 位访问码加入

邀请非成员访客

自由邀请任何人
沉浸
发言人检测

检测发言人并把她/他/它放在主屏幕上

会议室列表

UX 设计策划的直观界面

全屏视频会议

全屏有助于与会者关注发言人

虚拟背景选项

将主体与背景区分开来,并将一个定制或模糊的背景强加于其他事物之上。
录制
个人历史记录

保存和管理个人笔记或屏幕截图

屏幕截图

截取会议屏幕并与与会者共享

会议记录

创建并管理会议笔记

录制

录制会议屏幕
(云存储)

您需要强大的高清视频会议服务吗?
试用我们的企业版,获得绝对的协作效率。 RemoteMeeting 仅在 Chrome 浏览器上可用。