Zoom OUT with RemoteMeeting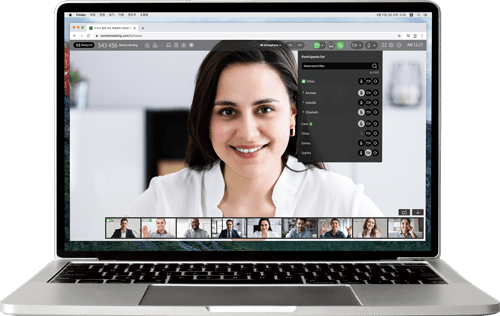 More than 15,000 companies use RemoteMeetings for online meetings.
RemoteMeeting, the video conference standard without worries.
Learn more
Meet with 100 people
Securely connect with up to 100 people simultaneously RemoteMeeting.
View and easily communicate with all attendees from one single screen.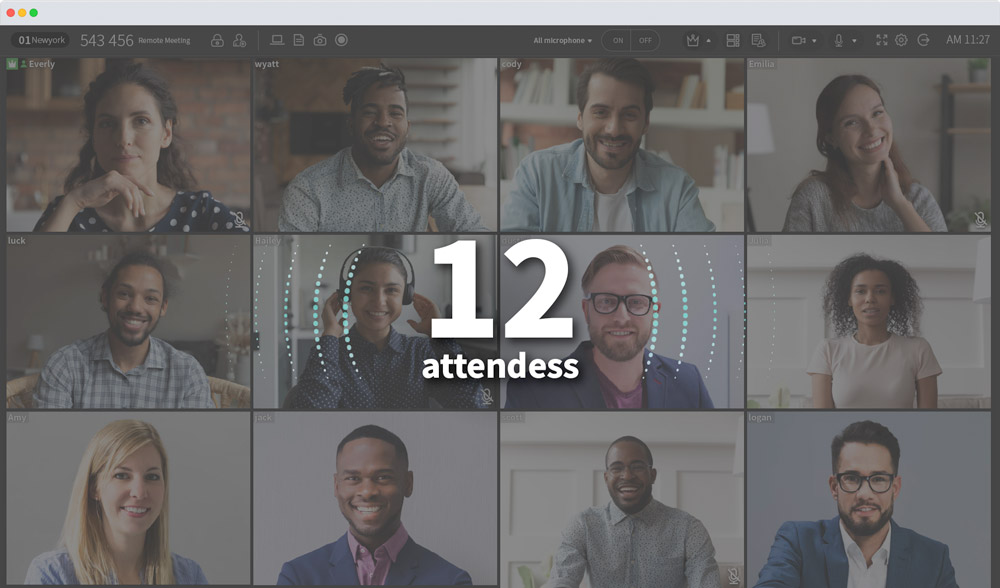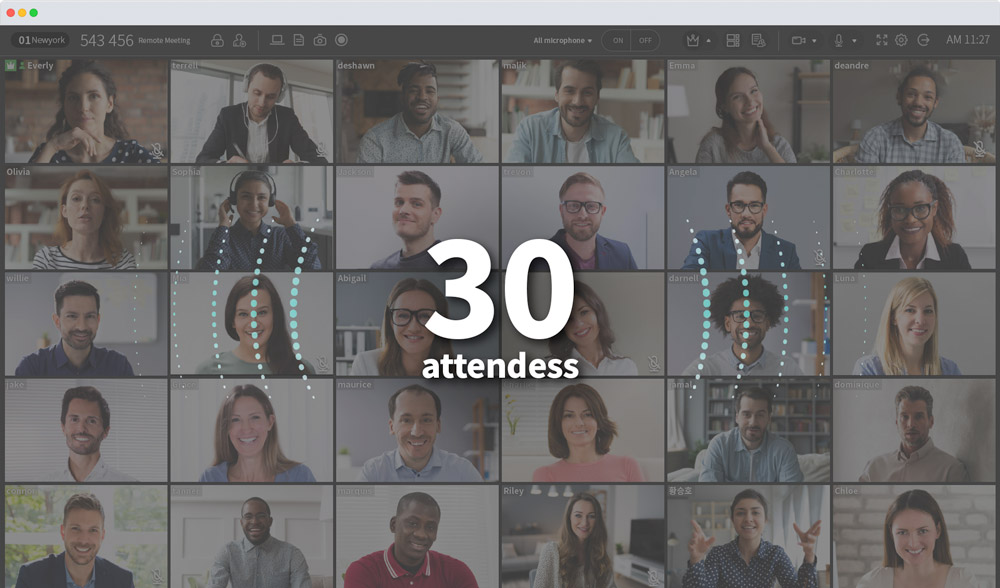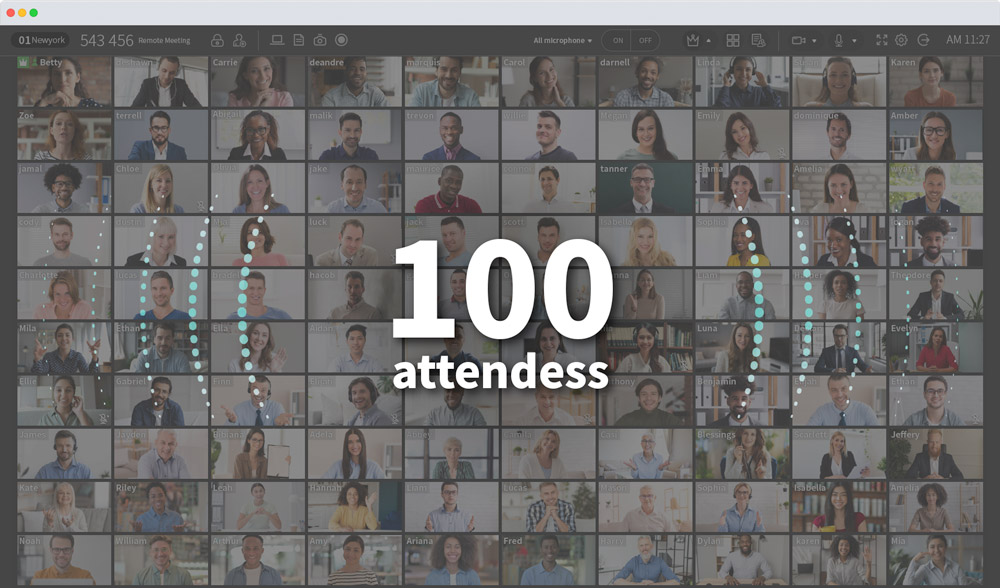 Select mode according to meeting preferences
Select the desired meeting mode for every needs from various methods, such as when requires
everyone's focus on only a specific speaker or share opinions among attendees.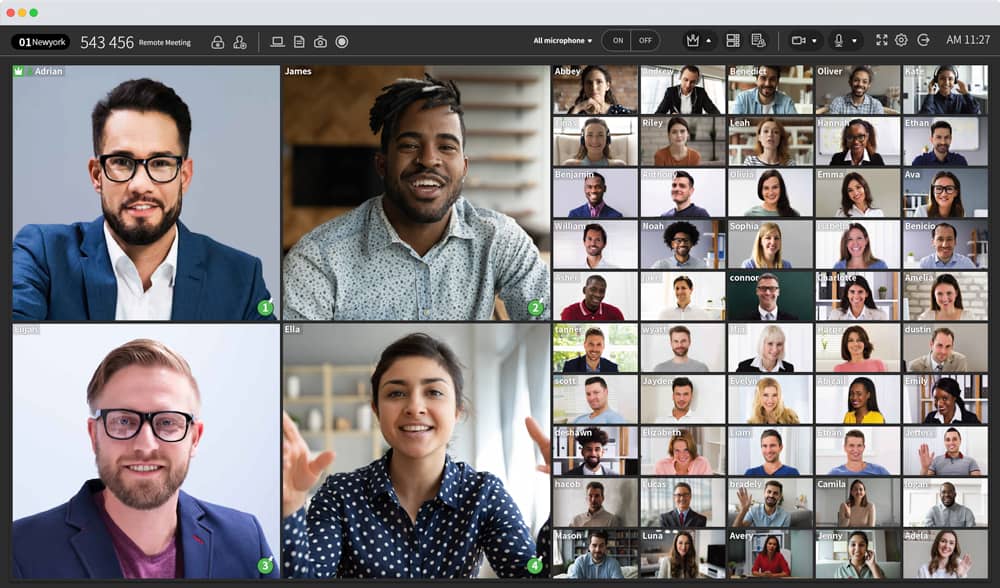 Focused screen mode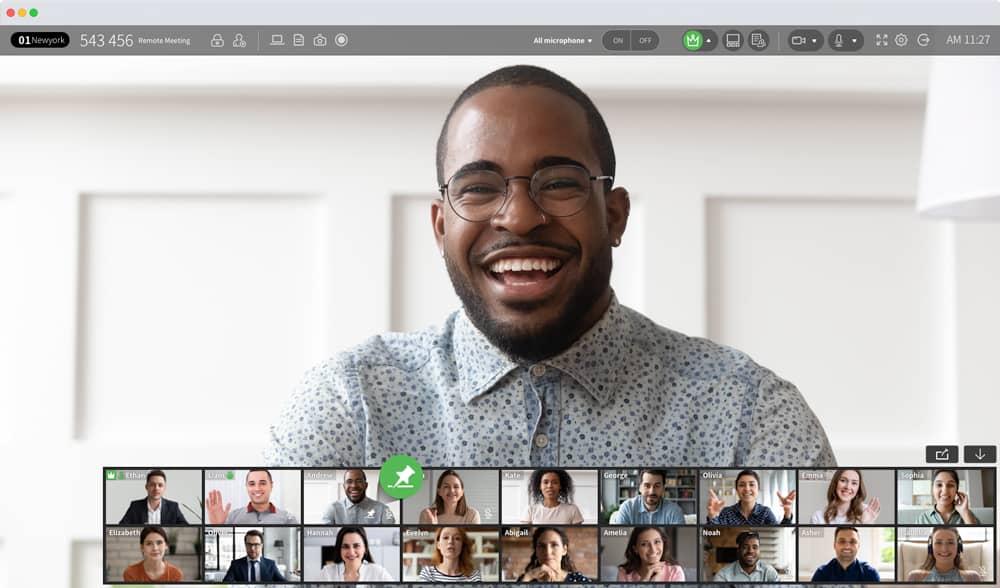 Main screen mode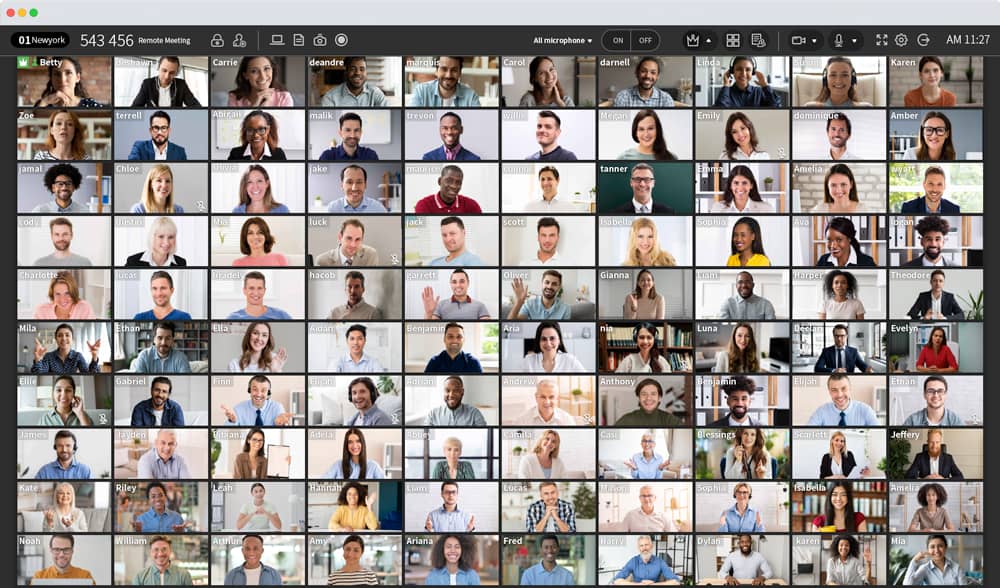 Split screen mode
Powerful moderator features for VIP speakers
Even in a video conference, a moderator is required.
Pin VIP speakers on the main screen to immerse the attendees into the meeting.
Easily experience RemoteMeeting with AI demo.
Easily find out how to use and function for RemoteMeeting.
AI minutes will be create the minute for you.
It offers a voice recognition feature called AI minutes
which captures the speaker's voice and converts it into text.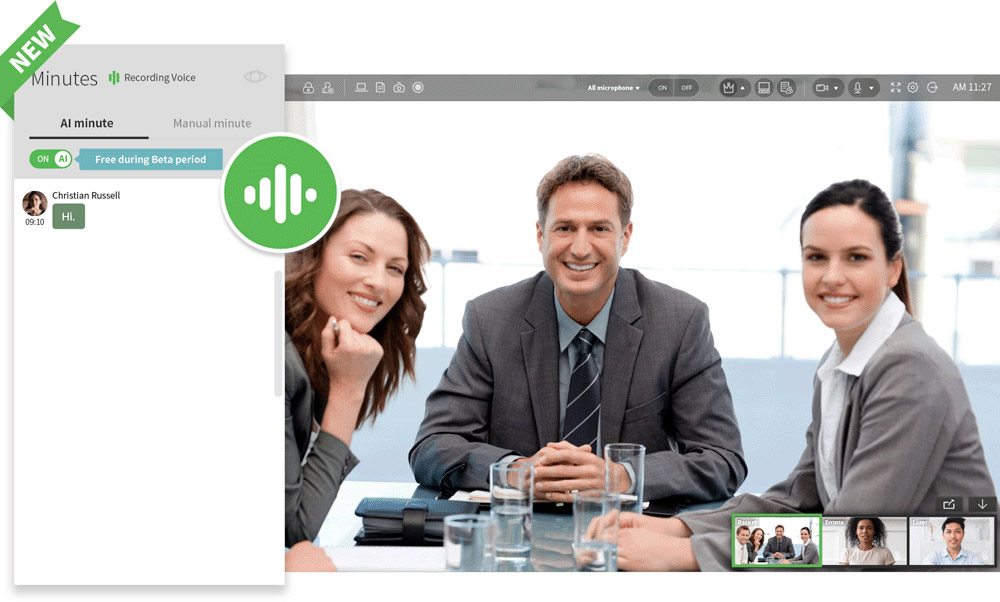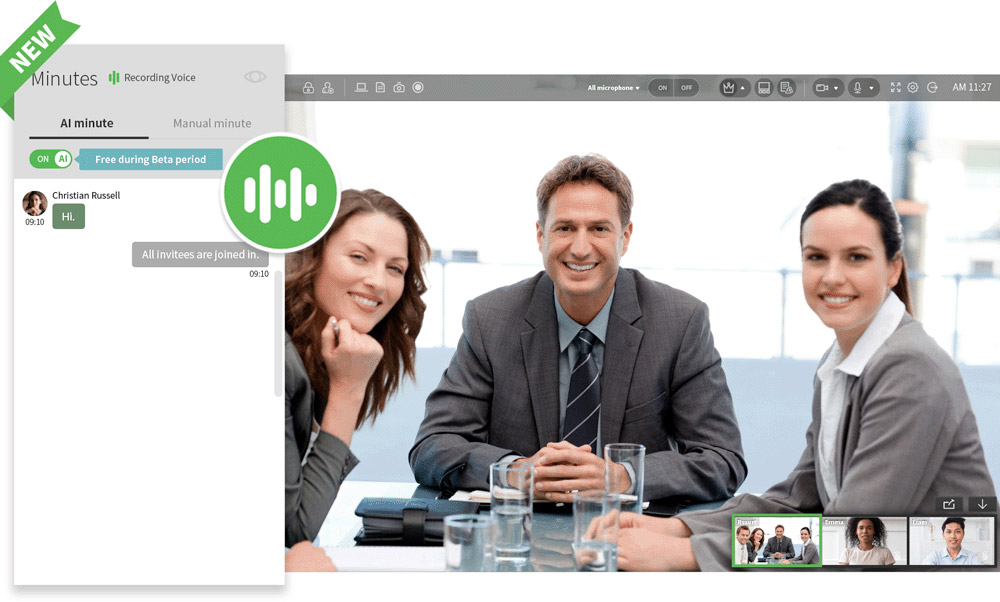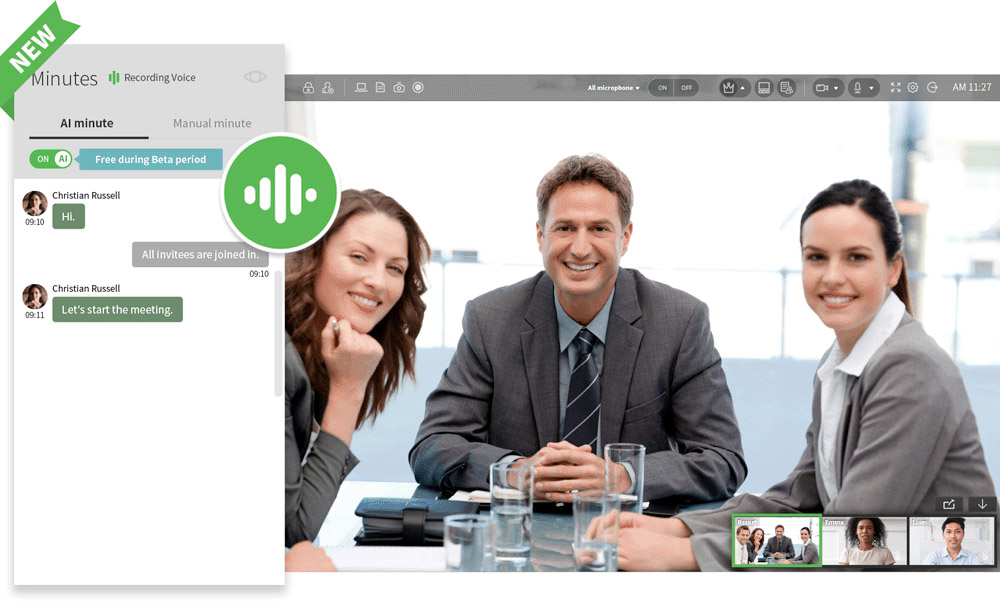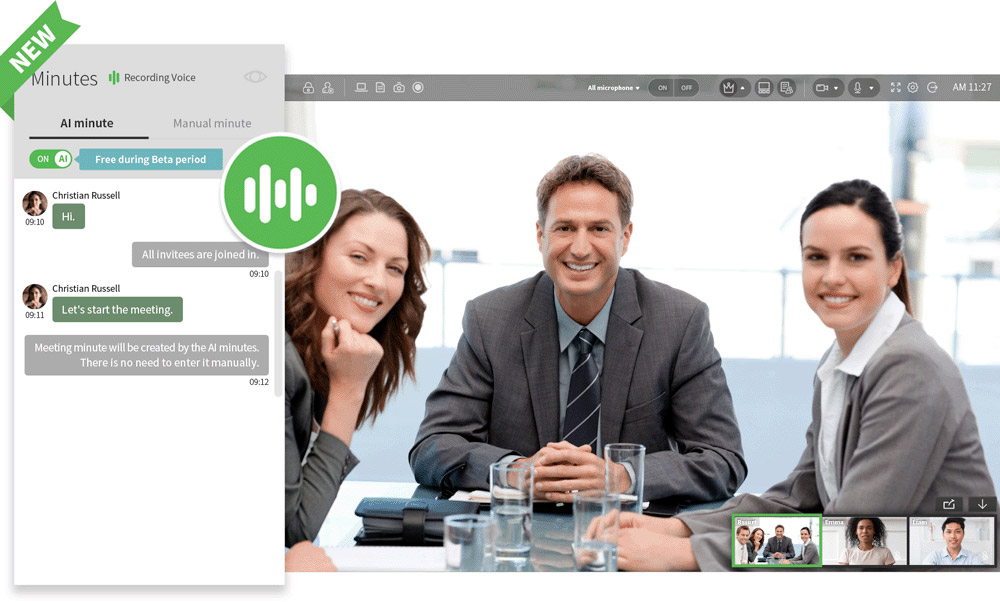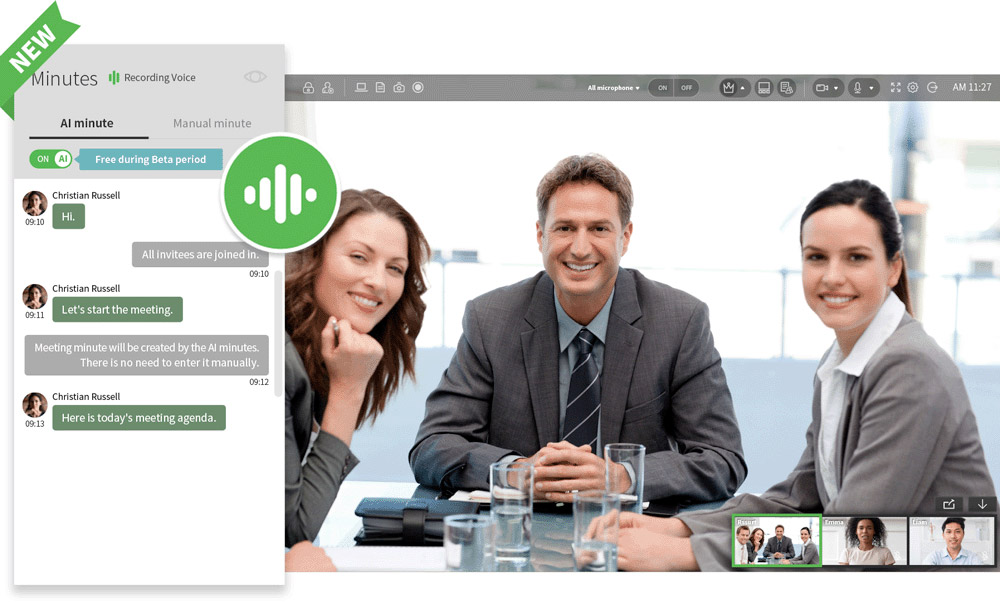 Listen to the words of those who experienced
the switch to "Untact" communication.
Easy video conferencing from anywhere

We started telecommuting without preparation in response to Covid 19. We continued working without gap by connecting to the web without installing the program and by attending video conference right away.

Logistics and Distribution Industry Management Department

Uninterrupted work flow

I was puzzled by the sudden implementation of telecommuting, but I was able to easily communicate through video conferences on matters that need to be shared or urgent issues.

IT SME HR Team

Seamless untact communication

When telecommuting, the company considered connectivity as the most important thing, and everyone participated in the department-wide meetings and utilized it without problems. As a result, domestic products were introduced without issue.

Manufacturing Industry Computing Team
Smooth business continuity

Due to the sudden outbreak of the Covid 19 virus, many national projects were unable to face-to-face screening, so they had to be replaced by videoconferences.

Public institution / association representative

New way to interview

With the introduction of RemoteMeeting, the face-to-face interview which was considered essential for meetings, were replaced by a video interview, and I think it will be a new trend in interview.

HR manager of IT company

All from the web

I was worried that it would be difficult to use the solution at the first for video interview, but as soon as I connected to the web, the interview just proceeded as usual. In addition, I was able to share my portfolio and appeal with myself while interviewing with interviewers.

Applicants for service industry recruitment
Easy-to-follow guide

I was so impressed with the remote class. We tried it for the first time, and the RemoteMeeting was great because non-IT teachers and the students were able to easily use the service. Specially, pen/draw feature was excellent to share idea and explain.

Person in charge of educational institution

Simple to use

Usually, lower grade students can participate in online classes only with the help of parents, but the RemoteMeeting was so simple to use that the students themselves participated in the class without the help.

Primary school teacher

Features to keep focused

The quality of the online classes has been improved by controlling the microphone and camera of the students in the class and they were able to concentrate on the class content. I turned on the microphone during the QA time to answer their questions.

Middle School Teacher
No more waiting for vacancy with 99 video conference rooms
Don't worry about the lack of meeting rooms anymore.
RemoteMeeting's patented lounge UX allows you to easily start video conferencing by simply selecting an empty room.
Protect privacy during the meeting with Blur background
Hide the personal space when working from home
Protect your privacy and hide the background by blurring the surrounding.
Immersive meetings without background noise
By removing the background noise, enjoy a more immersive meeting with clearer sound quality.
Prepare for business continuity planning (BCP) with video conferencing solutions.
Businesses need to foresee crisis and adopt "Untact" to maintain the work flow.
Systematize and plan "Untact" way of working with RemoteMeeting's video conferencing.
Smartwork is a must, not an option

TelecommutingWeb video conferencing

Thanks to the #RemoteMeeting #web video conferencing, continuity of work in telecommuting was possible without any special preparation. We were able to proceed with the business meeting immediately. IT service industry, operation support team manager

New trend in the job market

Video interviewRemoteMeeting

In these days, it is hard enough to board the subway without a mask, I was worried that the job market has shrunk. But, I was able to conduct interviews at home on the date and time of my choice with #video interview. Manufacturing HR and job applicant

Tool for Untact remote class

Online classesUntact class

#On-line classes were conducted through remote classes. #RemoteMeeting was the key as even lower grades in need of their parents were able to use it easily and share the class materials and provide intuitive explanation. Elementary school teacher in Seoul
Use of video conferencing increased 34 times
Many industry groups that focus on flexible work culture and communication
are taking work continuity with the introduction of remote video conferencing.
RemoteMeeting service usage rate by industry

Video conferencing time(Prior to and after Covid 19)
Connect to the world from anywhere
Be a partner of the world with RemoteMeeting.
A fair pricing
Get your meetings and pay just for the time you use.
Select a right plan for the meeting frequency.
Quickly integrate video conferencing service with RemoteMeeting API.
Integrate the video conferencing API to your work environment.
The added feature will improve your business competitiveness in many ways.

Along with software
the innovative video conferencing hardware
RemoteMeeting BOX
Get a video conferencing system at a low cost.
Your meeting room always will be on stand by.
Starting a meeting immediately with the remote control
Video conferencing becoming as easy as watching TV
Sharing the screen of laptop using HDMI connection
Try RemoteMeeting for free for 14 days now!
If you want a easy and powerful video conferencing, 100% web browser based RemoteMeeting is the answer.
The most reasonable, yet most efficient collaboration tool! Try RemoteMeeting.