Easy and Powerful video conferencing
RemoteMeeting is the solution to maximize business productivity.
Learn the key features of RemoteMeeting with AI Aru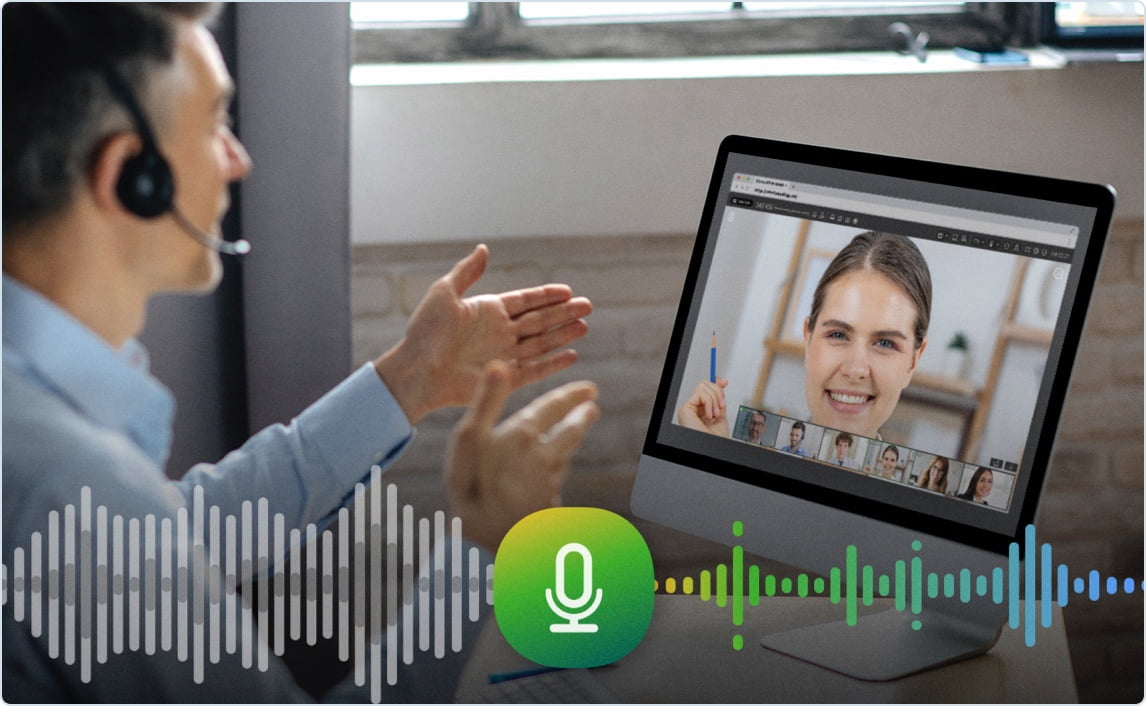 There is no need for preparation with RemoteMeeting.
Anyone can easily open a web browser meet online instantly.
Skip complicated installation

There is no need for complicated guide or prior training as there is no program installation.

Free from errors

Stay free from errors that may occur by program installation and various environments.

No cumbersome updates

No more hassle of updating before and after
installing the program.
Purpose-driven quick start mode
Select the desired meeting start mode. Experience incredibly efficient video conferencing.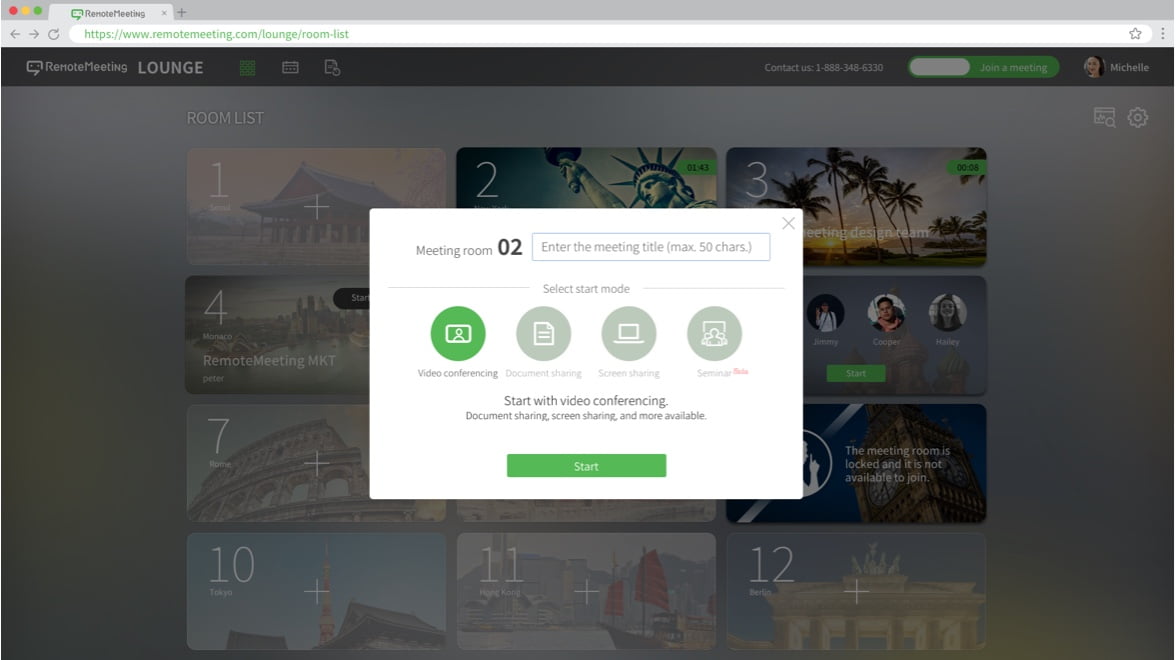 Video conferencing mode
Access all the features needed for video conferencing.
The meeting starts with the camera and microphone turned on, and share documents and screen as it progresses.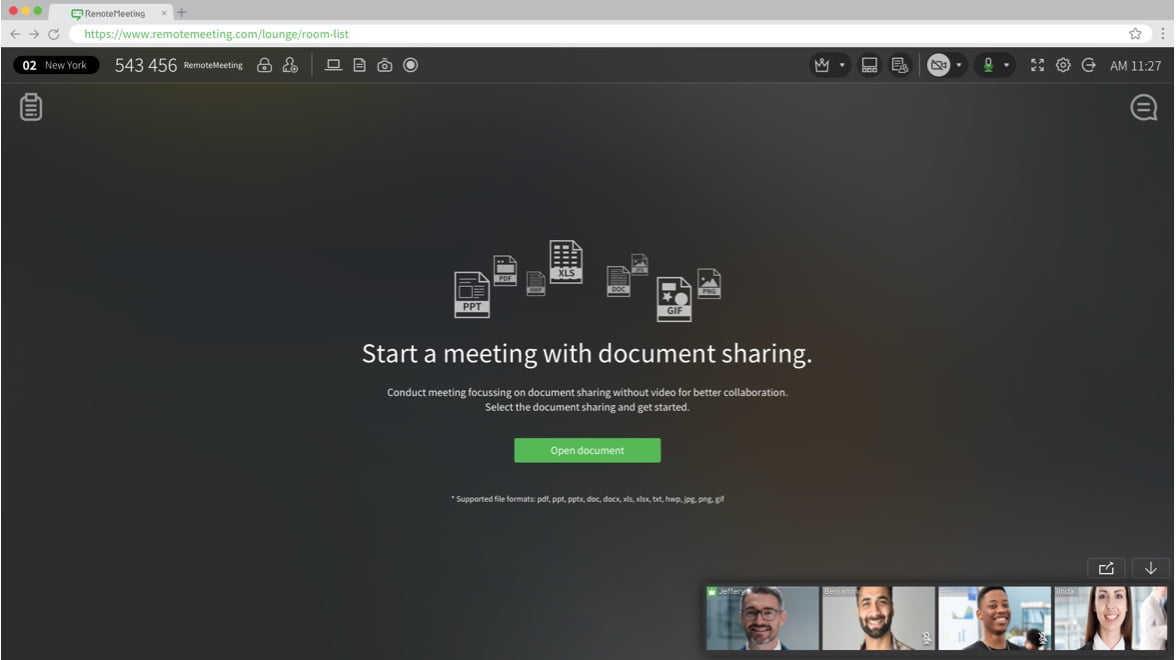 Start in Document sharing mode
Do you need to keep the camera off during meetings?
Meeting starts with the camera turned OFF and keep others focused on the shared meeting materials.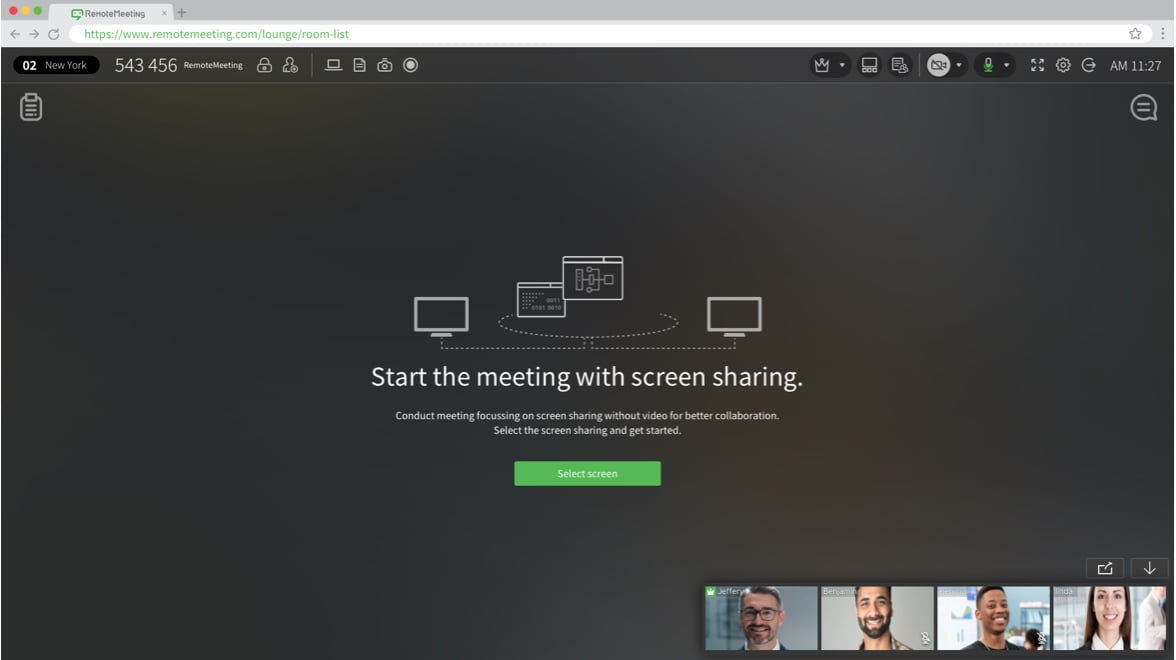 Start in Screen sharing mode
Do you want to show your screen rather than documents?
Meeting starts with the camera turned OFF and
share the screen for interactive drawing and remote control.
6 collaboration tools to complete your meetings
Be as clear as if you are right next to them.
Just like an offline meeting, RemoteMeeting's essential collaboration tool reduces miscommunication and increases effectiveness.
Screen sharing

Enhance your speech by showing your
PC screen to all meeting participants.

Collaborative drawing

Communicate more clearly by drawing
together on the shared screen.

Remote control

Request remote control to directly control the other party's PC as if it were yours.

Document sharing

Share and present documents or image files
from your PC with other participants.

Record

Record important points of the meeting
with a single click, and review it later.

Chat

Communicate with other participants on the chat window and share the captured screen.
My Documents Presentation
Present documents and images to meeting attendees.
Attendees can clearly describe the document using laser pointers and pens.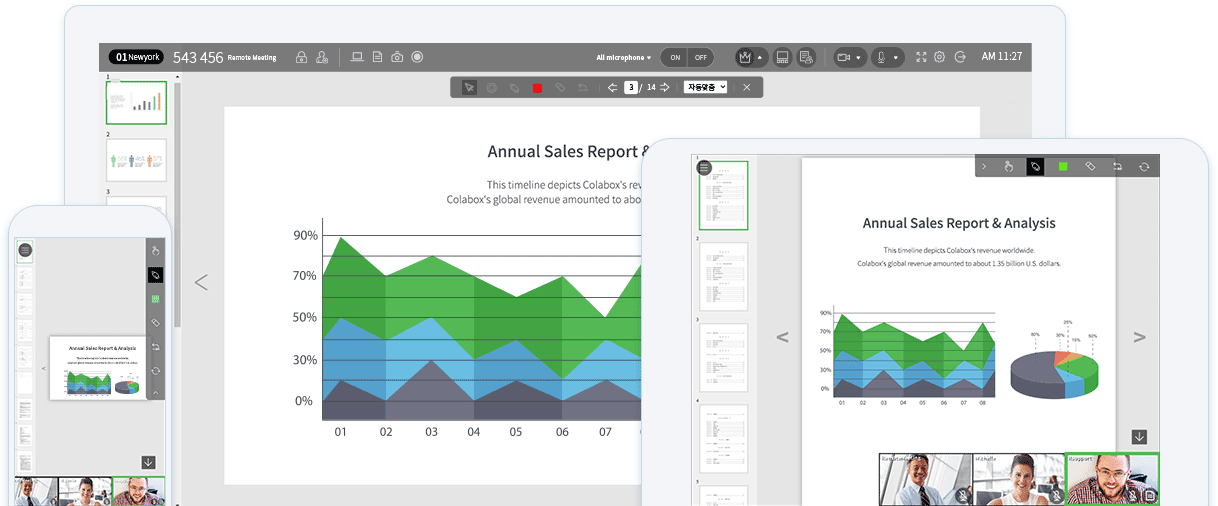 Supported formats
MS Word (DOC, DOCX)

MS PowerPoint (PPT, PPTX)

MS Excel (XLS, XLSX)

Adobe Acrobat (PDF)

TXT

GIF, PNG, TIFF, JPG
Real-time interactive drawing
Use laser pointers or color pens to easily and clearly explain.
You can create more productive conferences with RemoteMeeting than offline meetings.
USER 1 screen

USER1

USER 2 screen

USER2
Present your screen on mobile or PC in real-time
Share your current mobile or PC screen live with others.
Enjoy a more vivid meeting by delivering local data or screen from any connected device directly.
Moderator mode for a more efficient meeting
In a meetings with multiple attendees, conducting a stable and focused meeting is the job of the moderator.
Control the meeting option depending on the venue or situation and let the presenter focus only on the presentation.
Learn more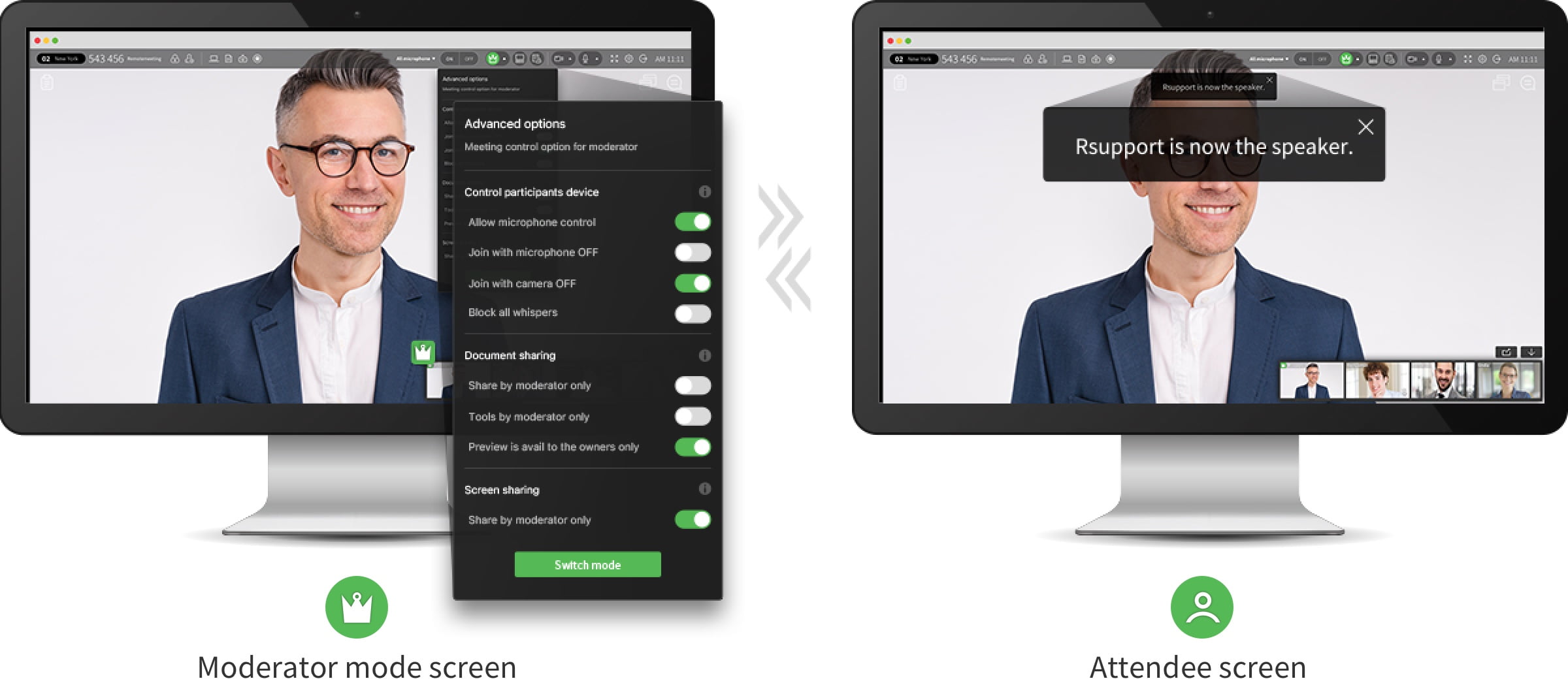 Focus on the speaker assigned by the moderator.
Moderator designated speaker is pinned on the left or main screen of the other participants.
Moderators can also control the cameras and microphones to focus more on the speaker's speech.
Learn more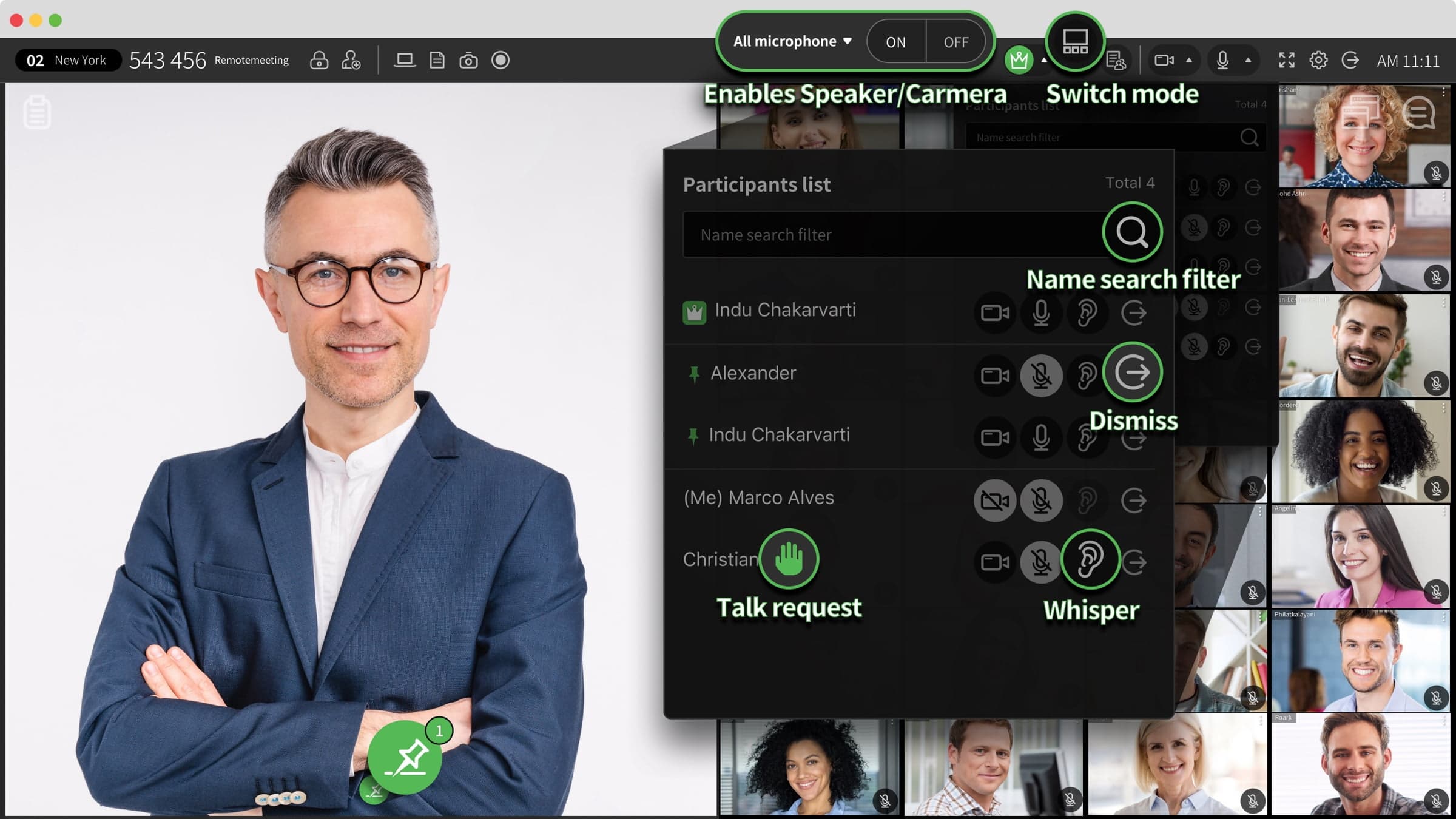 Minutes and Chat · Event log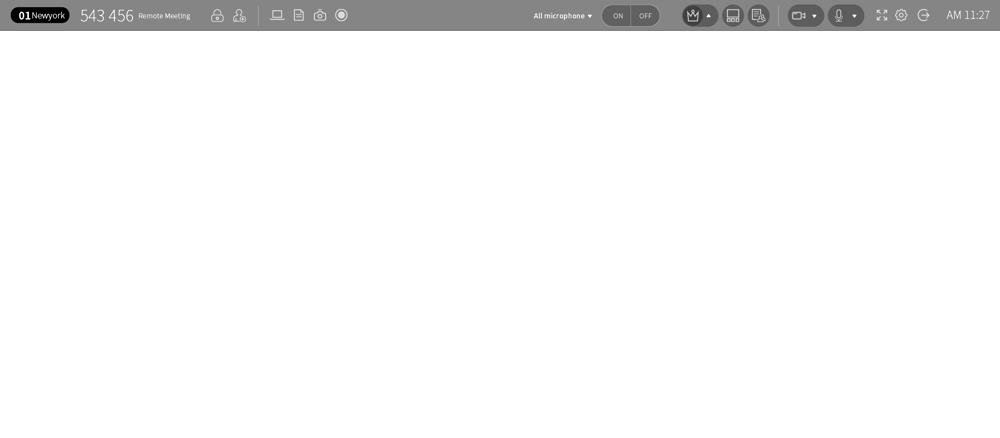 Automatically transcribe and save speech per attendees.
Export meeting minutes as file.
Edit in real-time during the meeting
Simultaneous edit
Agenda check
Reuse previous minutes
Share by email
Store in the cloud

Chat
Communicate via chat during meetings.
Screenshot thumbnail, Screen display, Share saved

Event log
Display event log during meeting,
review activity history between participants.
Screen/Document sharing, Join/Exit, Camera On/Off
Increase satisfaction with efficient collaboration tools
Select a customized meeting screen mode
Video conferencing layout is now customized to suit your preferences and ordered at your desire.
Change the screen composition of the participants in various ways to emphasize or focus on the key participants.
Learn more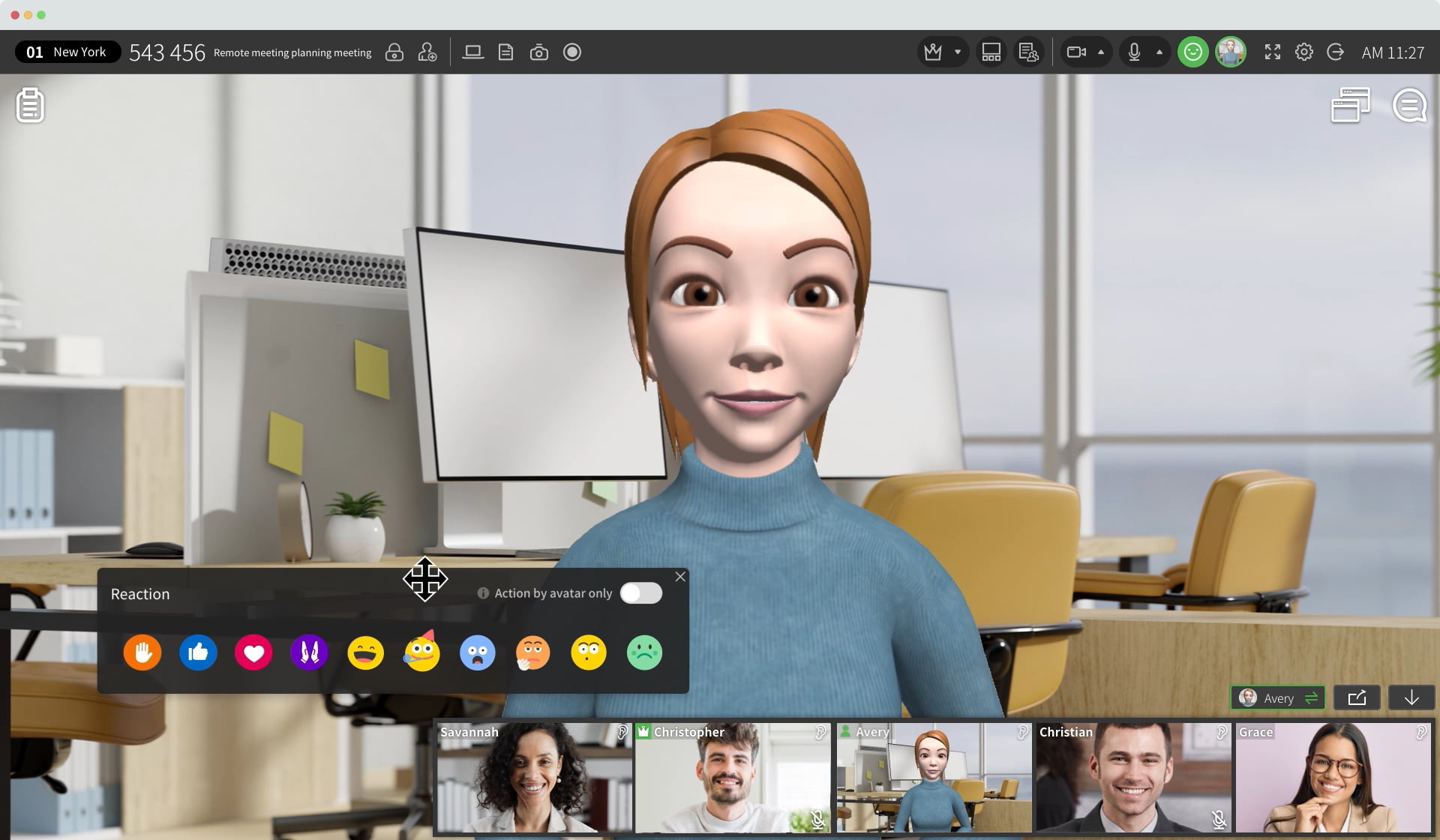 Share How you Feel
with Emoji Reactions
Now you can immediately react and respond with Emojis during a meeting.
Locate the Reaction menu anywhere you want and enhance your experience with a broad range of emotions.
Learn more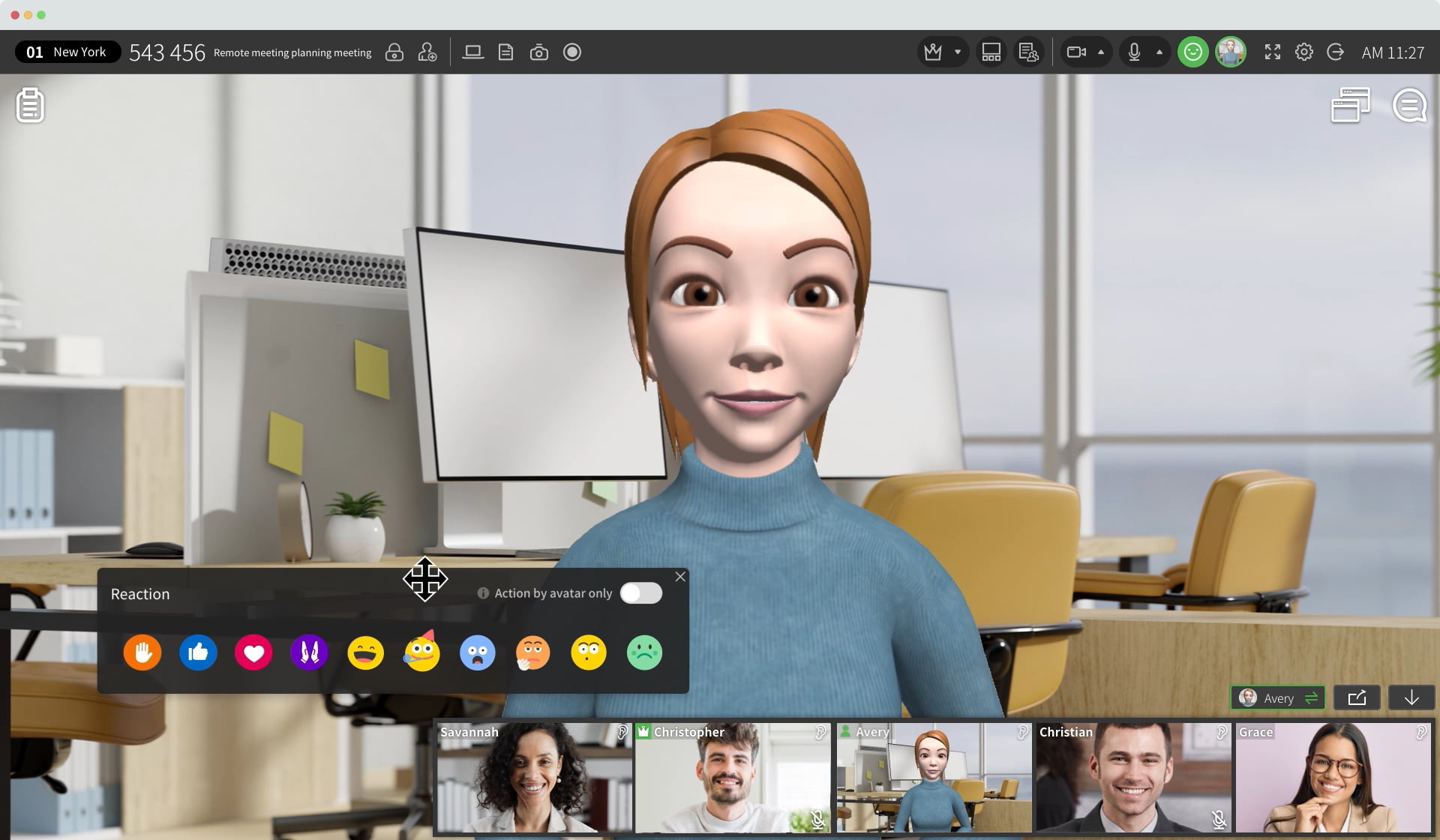 Chat with others without disturbing the speaker.
Did you ever needed to have a more private talk with a participant while there is an active speaker?
Now, feel free to chat privately with specific person with whisper chat.
Learn more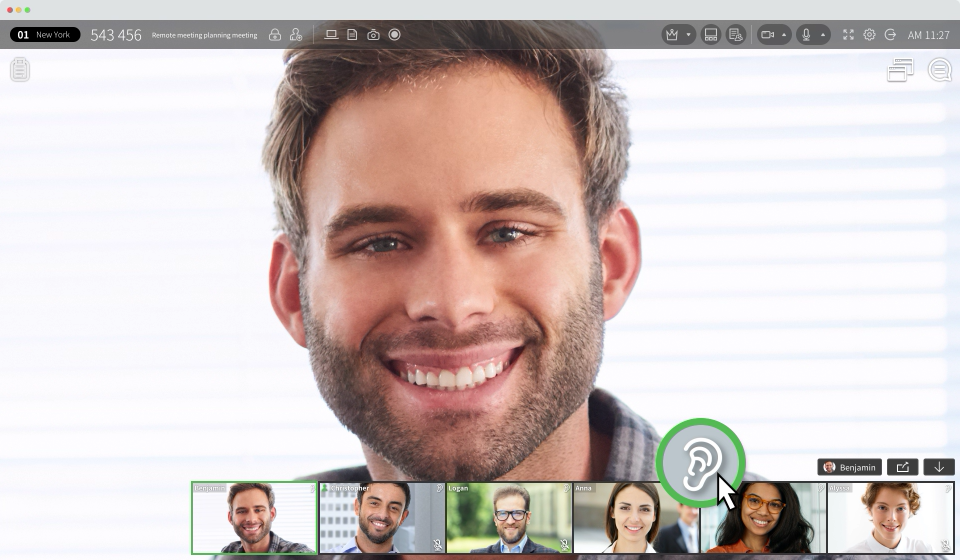 Experience more vivid interactions even during screen sharing
While sharing screen, the presenter can switch the screen to view all participants.
Review their feedback immediately by looking at reactions.
Learn more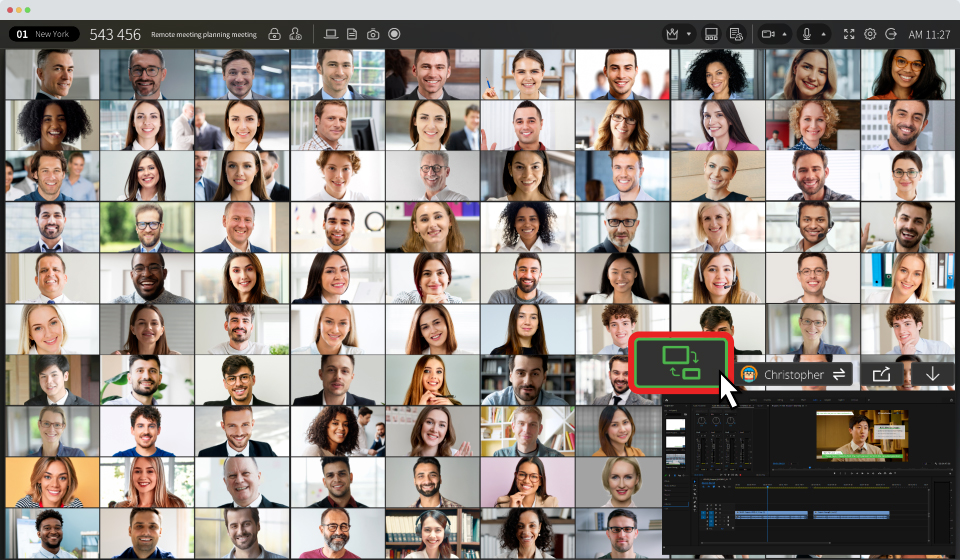 Reduce collaboration time with easier file sharing
Upload documents or image files more easily and quickly, and keep the flow of the meeting seamless.
The streamlined process allows you to focus more on communication.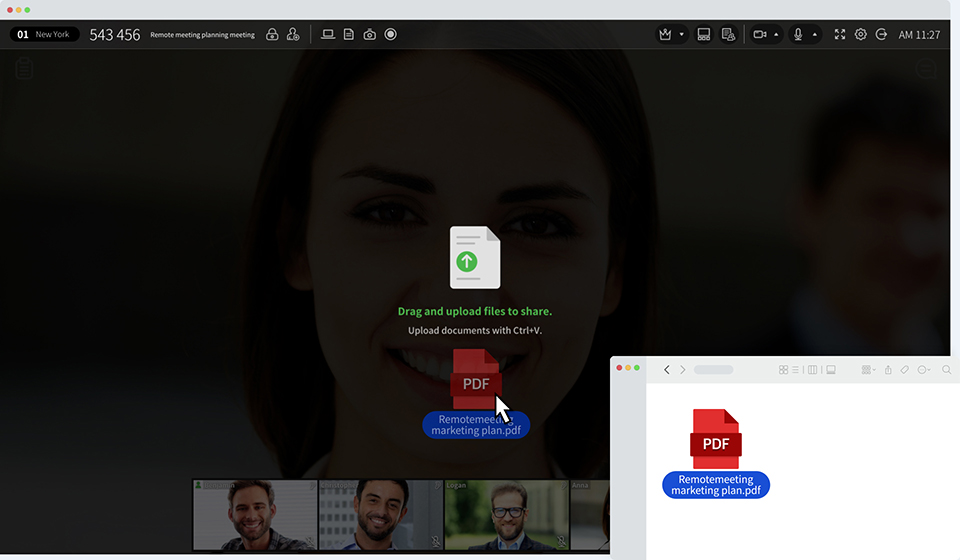 Clean and polished looking background with Chroma Key
Be video conference ready with green background for interviews or presentations.
Replace the green with virtual background with the Chroma Key option and make the subject stand out.
Learn more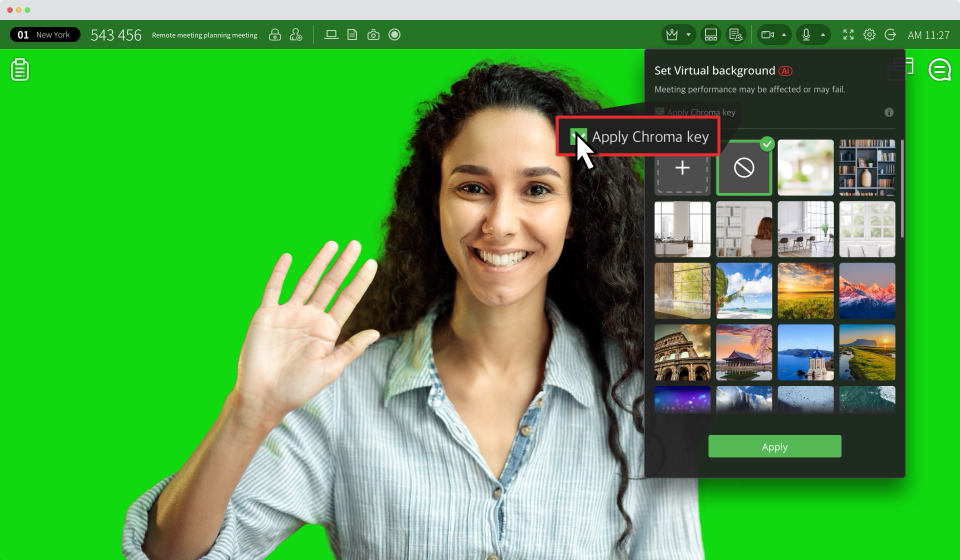 Place and move them around as you like
Regardless of the order of entry, change the placement of the participants at your desire.
Easily place the key members on the front and others to the side with different modes.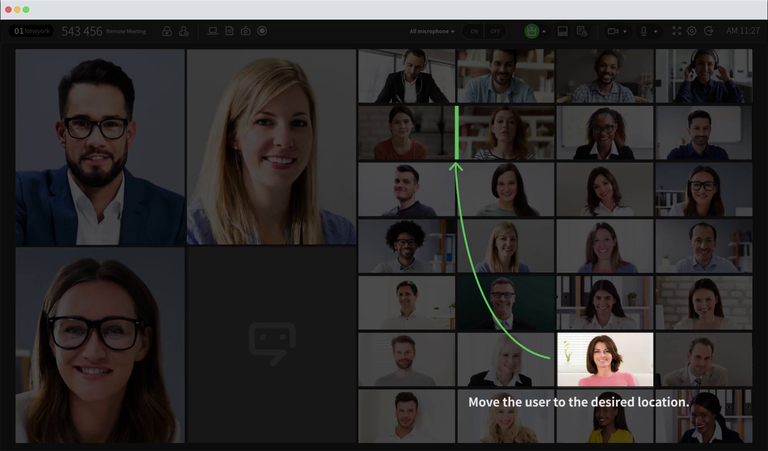 Speaker detection for a more immersive conference
You will focus on a meeting without distraction.
RemoteMeeting provides the speaker detecting and full screen of video conference.
Cost Savings
Instead of traveling, we calculated the cost savings and provided various statistics for meetings with RemoteMeeting. Companies that adopted video conferencing can now realize the cost savings.
Time Spent(minute)



Usage Statistics
Saving Cost

Total ( USD ) 45,131

Saving Distance

Total ( km ) 123,955

Saving Carbon

Total ( tCO2 ) 24.5044
RemoteMeeting features
Collaborate
Presentation

Share documents such as ppt, doc, xls, pdf, hwp

Drawing

Draw and highlight on Presentation mode

Chatting

Share text message during the meeting.

Pointer

Multi-functional pointer for presentation
Join
Contacts

Group contact information and favorite

Access Code

Join by 6-digits Access Code

Inviting nonmember guest

Free to invite anyone no matter
Immerse
Speaker Detection

Sense a speaker and put her/him/it on main screen

Room list

Intuitive interface engineered by UX design

Full Screen Video Conference

Full screen helps participants focus on the speaker

Virtual Background option

Differentiates the subject from their background and impose a custom or blurry background over everything else.
Record
Personal history

Save and manage personal notes or screen captures

Screen capture

Capture meeting's screen and share with attendees

Minutes

Create and manage meeting notes

Recording

Record meeting's screen
(Cloud storage)

Do you need a powerful, high definition videoconferencing service?
Try our enterprise version for an absolute efficiency in collaboration. RemoteMeeting is available on Chrome browser only.